Ready for your next step?
Our Core Values
INNOVATION
- We are curious and explore new ways
- We are ambitious and find solutions
EXCELLENCE
- We have a strong technical knowledge and we deliver results
- We deliver quality in everything we do
TRUST
- We believe in teamwork and collaboration
- We lead by example and accept responsibility
- We are transparent and we show integrity

Why work with us?
* Higher purpose
The peptides that we produce is part of several different pharmaceutical products. Through our work we are improving the quality of life for many people all around the world.
* World class environment
PolyPeptide is one of the world´s largest and most successful actors within the field of peptide technology. We are constantly growing and developing our organisation. As part of this process, we provide our employees with a dynamic workplace environment and great opportunities to grow.
* Open and welcoming atmosphere
The people working at PolyPeptide are the key factor of our success. In our company we have a stable foundation and strong walls but no roof. The environment is defined by transparency, curiosity and teamwork.
* Competitive benefits
Our employees have generous working hours and vacation from first year. We have our own athletics club that offers free activities such as football, group training and long-distance race. We also have a company choir who meets once every week.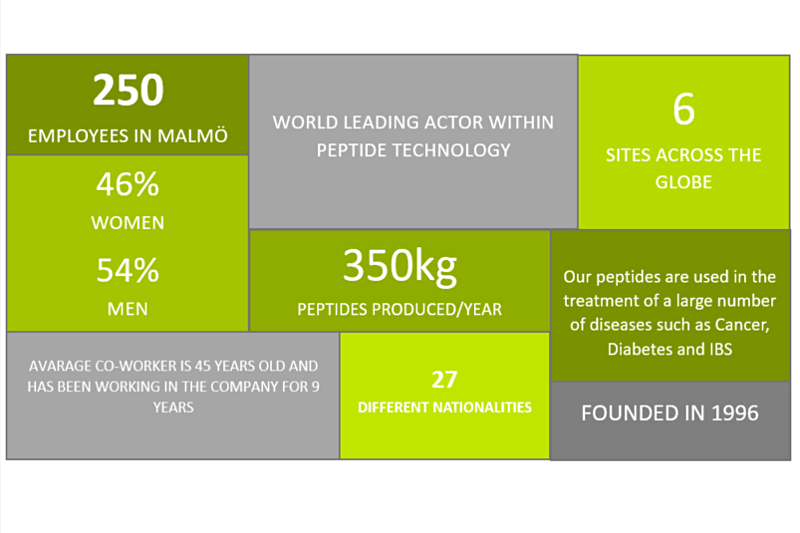 About PolyPeptide Sweden
Manufacturing of commercial therapeutic peptides began already in 1952 in Malmö, Sweden within Ferring Pharmaceuticals.

Want to learn more? Watch the short movie about PolyPeptide Group in Malmö: https://secure.quickchannel.co..
Already working at PolyPeptide Sweden?
Let's recruit together and find your next colleague.